Are you from the country that is banned from Clickbank? or are you just trying to diversify your affiliate marketing portfolio?  If this is you then you're in luck because today I am going to share with you how to use Digistore24 and how to make money with Digistore24 in 2020 as an affiliate marketer.
What is Digistore24 about?
Digistore24 is an online marketplace like ClickBank where vendors and publishers can meet themselves and then grow their online business.
In other words, Digitstore24 is an affiliate network. It acts as a middleman between vendors and publishers who are looking for some products or services to promote.
Digitstore24 benefits for affiliate marketers
There are many advantages to join DIgistore24 as an affiliate marketer.
Here are the advantages D24 offers to affiliates:
Affiliate application approval is immediate.
Products are listed by category making the process of finding an offer or product to promote very easy.
They offer many payment methods such as Bank transfer, Paypal.
Unlike ClickBank, D24 is a worldwide company, and no matter where you are located you can find products to promote and get paid. A better alternative to ClickBank if your country is restricted.
Possibility to get paid weekly, bi-weekly, or monthly.
The payout threshold is low ($50 for monthly payment option).
Commission rate ranges from 15% – 90%.
What is Digistore24 payment methods?
Digistore24 offers various payment methods such as Wire transfer, Paypal, Check, etc. That makes them a top choice for online entrepreneurs in countries that do not support Paypal.
How to join Digistore24?
You can get started with Digistore24 for free, all you need to do is to digistore24.com and then click create an account, fill out the form, and then click click account.
Go here => https://www.digistore24.com/en/signup
Fill out the form (use your real information)
After filling out all the required information click on the register for free now button.
You will get a confirmation email from Digistore24 and that is it.
How To Make Money With Digistore24 In 2020 as an affiliate
After joining Digistore24 affiliate network, you need to start using it to make money as an affiliate, in this section, I am not only going to tell you how to make money with Digistore24, I am going to show you how I did it in three steps, the traffic sources I used, the product I promoted and the sales I made.
Step 1: Pick the product to promote
The first step you need to take in order to make money with Digistore24 or any other affiliate network is to pick a product.
In order to pick the product, you need to go to the market place
=> https://www.digistore24-app.com/affiliate/marketplace
On the left-hand side you will a lot of categories, just click on each category to find out the products they have to offer, pick one that is related to your niche, or the one that resonates with you.
Since I am on make money online niche I decided to pick a product from John Crestani called Work-At-Home Secrets & Internet Jetset.
It got a $1 trial products and the recurring price that is $39.95 per month with 90% commission, so for me it means that I make $35 per month for each free trial I give away.
Step2: Create a Squeeze Page
In order to create a squeeze page and building your business, you will need two tools, a landing page builder and an autoresponder, in this step, I am going to give you both of them and one step further I am going to give you the first email you should send to your subscribers.
GET AN AUTORESPONDER
An Auto-Responder Allows you To Build a List of E-mail Addresses Which you can Market and Deliver content to on Auto-Pilot.
Here is a Highly Recommend Auto-Responder: AWEBER
It comes with a 30 Day Free Trial.
BUILD A LANDING PAGE
A Squeeze Page is a Single Page That Allows You to Capture Your Subscribers E-mail Address in Exchange for a Free Gift or information.
Luckily for you, I already created one for you inside the Clickfunnel just download it here: DOWNLOAD SQUEEZE PAGE
If you have a Clickfunnel account just add funnel and you will have the funnel inside your account.
 If you do not have a Clickfunnels account just click fill out the information then click on Start 14 days free trial button.
CONNECT AWEBER TO CLICKFUNNELS
With just few clicks you can connect your Clickfunnels account with Aweber, in this video, you can see how to do this.
INSERT YOUR WELCOME MESSAGE
When People Opt-in on your Squeeze Page. They Need to Receive an Automated Welcome Message containing whatever they opted in for.
Luckily For You, I Have Pre-Written One For You Here Containing The Free Gift For Your Subscribers.
Just Copy & Paste this as your First Message in your Aweber Auto-Responder. Click Here to Access.
Step By Step Instructions
Hover over the "Messages" tab and select "Campaigns".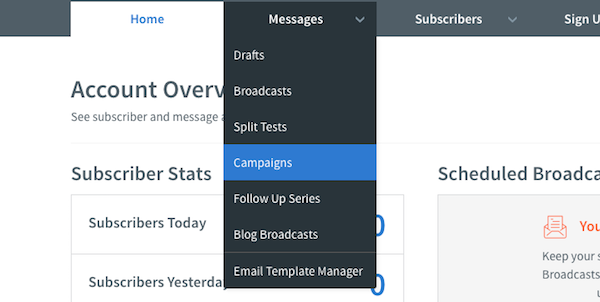 3: Next, click "Create a Campaign".

4: Click "Create a blank campaign".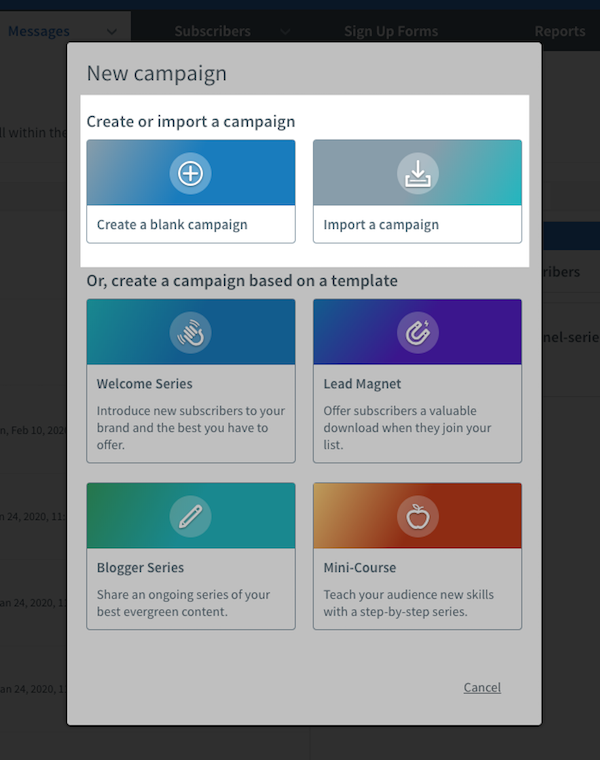 5: Give your new campaign a name, then click "Create".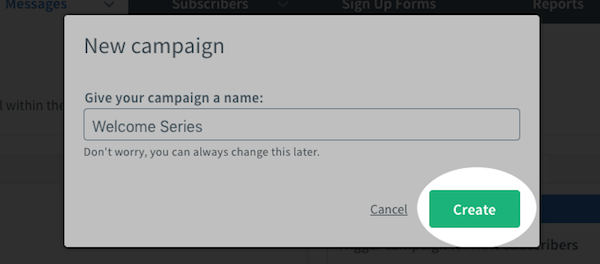 6: You can choose to trigger the campaign for all subscribers or for subscribers who match certain criteria.  To trigger a campaign for specific subscribers, click the "Add filter" button to the right.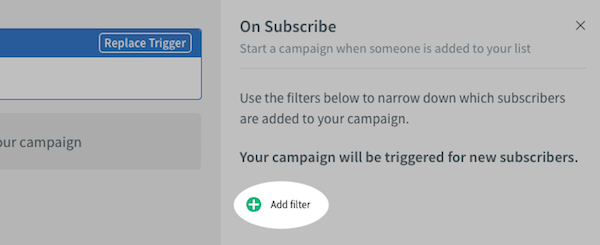 7 After you've chosen to start your campaign for all subscribers or for a specific filter, add your "Send Message" actions to the campaign canvas.
On the right-hand side, it will appear a small tab with a create a message drop menu, if you click that one you will get three options, drag& drop, plain text, and HTML, just pick drag &drop.
Copy and paste the subject line and email, then click save and exit, guess what? you have your welcome email.
Change your affiliate link
When your prospects click on GET STARTED TODAY, you want two things to happen, one to add their email to your autoresponder (you build your list and they get the first message as we just added) and another thing you need to send them to the affiliate offer, so let change that link and put yours.
In order to do that we need to edit a link on your squeeze page.
Go to your funnels =>https://clickfunnels.com/funnels
Select the funnel you just downloaded.
Click on the edit page button
Click on the SETTING tab and then on the drop menu click on general
From Digistore24 copy the link from where it says Your Promolink
mine is https://www.digistore24.com/redir/301523/sekihudson/
Paste that link where it says on submit go to, then click the big save button you're done for this time.
Cloak your link
After creating your squeeze page, connecting it to your autoresponder you need to cloak your link, we are going to use Bitly for this.
After setting up everything you will get your squeeze page link, I do not recommend to directly promote this link, I will recommend to cloak it.
In order to cloak your affiliate link, I will recommend using bit.ly. Just go to bit.ly, create an account (it is free ).
Click on the create button, copy the long ugly affiliate link that you got from Clickbank and paste it where it says PASTE LONG URL, then click create, that is it you will get the link like this one. 
bit.ly

/37zF3mW
Step 3: Creating Website Traffic
The best squeeze page is worth nothing without visitors. There are different ways to get website visitors. This time I used Twitter.
Create and Optimize your twitter account
Now you have the product and the link you need to create a twitter account that you can use for your affiliate promotions if you have one you can use that one if you do not just create a new one, it is easy and very quick.
Just go to Twitter.com
Twitter will ask you to log in or create a new account, depending on your situation you can log in or create a new account, to create a new account they may ask you a phone number, email address, and your name.
For twitter username, I will recommend finding a name that is short and easier to remember, you can just use your name or pen name if you wish, if the username is taken, try to find a new one and avoid using numbers at the end (it creates mistrust), you need to create a profile that people can trust.
Optime your profile
Use your real photo
I found it easier to attract new followers when I use my real photo, I will recommend you to do the same. never leave the default profile photo.
Create a cover image.
I use a free tool called canva.com to create my twitter cover images, it is free, easy, and quick, again do not leave the default cover image.
Write a short bio and put your link on it.
Here is where things start to get interesting, you will need to create a short bio to introduce new people to your account and then at the end of it you can include your affiliate link.
You need to do this as most people before deciding to follow you, they can go on your profile and writing a good bio with a link on it will increase the chance of them to follow you and click the link.
here is my optimized twitter profile.
Write your first tweet and pin it.
Before starting to follow anyone or having any followers I will recommend that you write your first tweet and pin it.
Write a short email with a call to action, include your affiliate link and then tweet it. After tweeting it, click a drop menu on your tweet and then click on the pin to your profile as shown in the image below. That is it.
Start following other Twitter accounts
After optimizing your twitter profile, now it is time to start following other Twitter accounts that might be interested in what you are promoting.
But before going into details on how to do this please follow my account @sekimarketing
Where to find people who might need your products?
You need to find out what are big accounts on your niche. In this example, I am promoting 12 minutes affiliate and this account is dedicated to all people who want to make money online via affiliate marketing.
So the first question I will ask my self is what are the influencers in affiliate marketing? Most people must be following them.
Big affiliate marketers, like Russel Brunson, big tools like Aweber, and Clickfunnels are the influencers and most of your audience must be following them.
The idea here is to steal followers from them, this is what I mean, go to the big affiliate marketing account, click on followers, and start following those people.
For example, if I was targeting Russell Brunson followers, I would go to his account and I will see who is following him and I will start following those people.
The idea here is that if these people are interested in Russell tweets they are interested in marketing and becoming online entrepreneurs, some of them might be interested in my content.
If your account is brand new, I will recommend starting following 50 people per day in the first week then increase the number to 100, then 150 up to 400, Twitter allows you to follows up to 400 accounts per day.
Some of these people will start following you back and if you do this in less than a month you can have more than 1000 followers.
Unfollow users who do not follow you back
Twitter wants you to have a good ratio of people you are following and people who follow you, by using this method most people won't follow you back, what you want to do is to start unfollowing people who are not following you back.
Free tool to follow and unfollow account on twitter
Following and unfollowing account on twitter can be a tedious activity, the good news is that I found a free tool that can help you to achieve that without hustling.
It is a free Chrome and Firefox extension, all you need to do it to go the following link and add an extension to your browser.
https://www.clemensteichmann.com/superpowers-for-twitter
With the free version, you can follow and unfollow 50 accounts at a time but if you refresh it the count starts over.
NOTE:
Please carefully read About the following on Twitter. If you do long and frequent mass actions, your account may get suspended. Usually, you can unlock your account again. To prevent further account suspension, you can adjust the options "Interval (seconds)" and "Limit" accordingly. You can also do fewer mass actions. Note: The extension pauses automatically when the Twitter follow limit exceeded.
In order to change the setting, follow and unfollow limits, click on the Superpowers for twitter and then options.
This is an example of my unfollow settings
How to follow accounts using this extension.
Just find an account that post content related to your niche and click on the followers if the extension is installed then you will see the follow all button, click that one, and it will start following all those accounts without you doing anything.
If you have a free account it will follow 50 accounts if you have a pro version you can follow 400 accounts (twitter follow limit per day).
How to unfollow accounts using this extension.
In order to unfollow account which did not follow you back in a given period of time ( this depends on your settings mine is 5 days), just go to your account then click following, then the magic unfollows all button will appear if you click that it will unfollow all account which do you follow but are not following back, this way you keep the ration near to 1:1.
Start giving value
The secrets to free traffic are to add value to the community, start posting tips and information that your audience might be interested in. I found out that motivational quotes work almost for every niche on twitter, find them, and post 5 to 10 times a day, the more the better.
Interact with other users
When you start getting followers, you need to start to retweet or like their content, and in exchange, they will do the same to you, this will give your account exposer and your account will start growing organically ( without you following other people).
Ask questions and respond to the question they ask, some of them they will ask you what you do and you will explain to them that you're an affiliate marketer and if they are interested you can tell them how to get started if they say yes, you send them your affiliate link.
You can tweak it a bit if you're in a different niche.
How to Make Money With Twitter and Digistore24?
When we optimized your account, you created the bio and the pinned tweet with your affiliate link, these two will be the main source of traffic, many people will see your links and few will click on one of the two links (they go to the same squeeze page).
After they are opt-in they will be redirected to the affiliate offer, in this case, it is a $1 trial ( you get nothing if they buy) but after one month if they want to continue to receive the training they will be charged $39.95 and you will be paid 90% of that, that is around $35 per each free trial (some will cancel and some will stay, it is a numbers game).
In this example, I got 515 people who visited my profile, you can get 100 times that if you do this consistently. and make some cash in the process.
Another way to make money will be through tweeting, I will recommend tweeting directly to your squeeze page link once in a while, I would say for every 5 value-added tweets on goes directly to your affiliate link.
You can make money also by sending direct messages to people, I do not recommend using automated software for this, as it can cause your account to get banned.
What do I recommend to ask a question on one of your tweets, for example, you can ask who wants a done for you system that takes 12 minutes to set up and can help you to make up to $460.02 per day? comment yes if you're interested.
Then you can send your affiliate link to every person who comments yes to your question, you can say a simple thing like Hey [name], Thank you for engaging with my post, here you go this is the method I was talking about in the question.
This is very targeted traffic, if you can send 100 messaged like this I am sure at least 35 of them will opt-in, remember for each one who takes the $1 offer you will have potential to make $35 per month. Just 10 of them you´re making $350 per month.
How long it will take to make a sale with this method?
I know this is the question are you asking right now, the honest answer is that I do not know, it depends on a lot of factors, like how the product convert, how much effort you put in this, the quality of the traffic. I have done this in the weight loss niche, make money online niche, numerology niche. I generally make a sale between 10 to 20 opt-ins, so here the question is how much clicks you can generate per day? That will be your limit.
When I tried this, I made 4 sales in 10 days.
Do this method work everywhere in the world
The answer is yes, as long as you have a twitter and Digistore24 account.
Does this method work for other networks apart from Digistore24?
Of course, you can replicate this method to make money using an affiliate network and any product.
Final words
This is how to use Digistore24 and how to make money with Digistore24 in 2020 as an affiliate marketer, I am using the same method to make money online, yes it won't be overnight and it might take time to get consistency sales, but if you follow the instructions and take action every day you will make some cash.